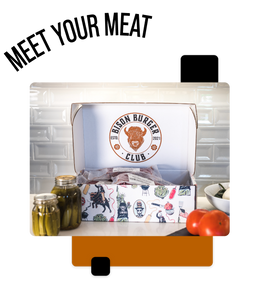 WHY BISON BURGER CLUB?
IT'S EASY:
The protein for one of your favorite meals is always at hand and ready to go
IT'S LOCAL:
Bison Burger Club is OKC-based and sourced from the Benjamin Lee Bison Ranch
IT'S HEALTHY:
This red meat has half the fat compared to ground beef, less calories and is higher in protein
BISON BURGER CLUB - 5LB Collection
---
BISON BURGER CLUB - 10LB Collection
---
Benjamin Lee Bison "One Time" Products Available for Local Pickup
---
Location & Pickup Times
Fair-Weather Friend: 
314 N Klein Ave
Oklahoma City, OK
First Thurs. of the month 4–6 pm
Pickup is inside the Fair-Weather Friend brewery which is on the East side of the courtyard. There will be a large Bison Burger Club sign to help direct you to the pickup.
Parking is free.